Get in contact with us
Telephone
Austria
Tel.: +43 732 257700
Contact form
We are happy to answer your questions.
> Contact
11.10.2020
White Paper: SmartSolutions - Quality control of fastening processes in real time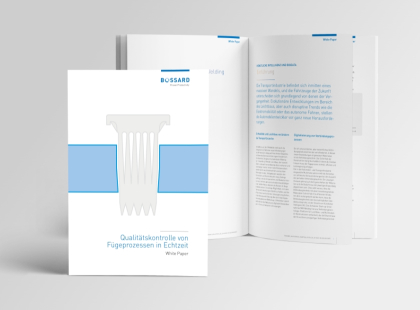 The Swiss start-up company MultiMaterial-Welding has developed a fastening technology platform for lightweight and multi-material constructions that combines the findings of artificial intelligence with its unique fastening technology.
MM-Welding-Technologie is an innovative platform for connection technology that uses ultrasonic energy to create a positive connection in various light materials.
The MM-Welding fastening method can be carried out manually or automatically, resulting in a total process time that is often less than a second. The reduced process time, along with the simplicity and reliability of the process, provide an ideal replacement for many of the fastening methods currently in use.
With the help of its SmartSolutions software, the company can also guarantee complete quality control of the joining process without the need for destructive testing methods. It ideally fulfills the need for complete traceability and control in an Industry 4.0 setup.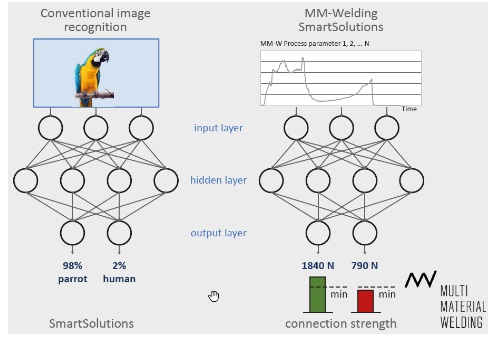 The software unlocks the potential of large amounts of data and AI for the fastening solutions and thus enables real-time quality control of production and much more. In addition, MM-Weldings SmartSolutions achieves a very high level of forecast accuracy. This means that the fastening performance can be very precisely predetermined.
A beta version of SmartSolutions was successfully presented to the public at a trade fair in Germany in 2019. Customer feedback was extremely positive and confirmed the enormous potential of advanced data-based methods.
For more details and exciting insights into this, we would be happy to provide you with our free white paper. Simply click on the following link and we will send you the white paper as soon as possible.

> request the free white paper now
We hope you enjoy reading the white paper. Additional details, videos and further information on the topic of MultiMaterial Welding can also be found on our MM-Welding website.