Get in contact with us
Telephone
Austria
Contact form
We are happy to answer your questions.
> Contact
Friction coefficient test - Process-reliable assembly of screw connections
The screw has proven to be one of the most effective fasteners throughout the history of manufacturing. This fastening method nevertheless has its downside, which can, however, be compensated for by a friction coefficient test. This type of test allows you to utilize the full potential of a screw connection, eliminate unsafe connections and hazards, and avoid the additional costs associated with them.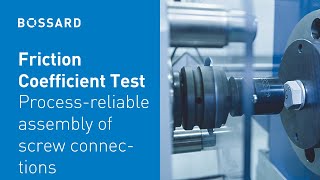 Why is a friction coefficient test necessary?
In order to correctly assemble screw connections, you need a specific tightening torque. This tightening torque depends on several factors. These include, for example, the type of screw, the strength class, the anti-corrosive surface, the degree of lubrication, etc.
The standard tightening torque tables provide information on which tightening torque is to be applied for specific friction coefficients. A large part of the torque's energy is lost or converted into thermal energy through friction alone. This is approx. 80-85% for a standard metric screw. This means that only 15-20% of the energy from the tightening torque generates the clamping force. The preload force or clamping force is necessary for the screw connection to fulfill its actual function.
Changes in the friction coefficient may occur if there are deviations from the standard, such as in the screw material, in the coatings, through the use of lubricants, through washers or lock washers or a self-cut thread. In the worst case, this leads to loose and unsafe connections. An exact friction coefficient test is thus an essential component for determining a process-reliable tightening torque.
What benefits does a friction coefficient test have in practical terms?
A qualified and expert friction coefficient test provides you with the following benefits:
Degree of lubrication: find out what effect the lubrication of the screw and the thread has on the friction and the friction coefficient range and whether you need a lower or higher torque.
Tightening torque: determine the friction and friction coefficient range. Use this method to determine precisely how high the torque must be for a stable connection.
Process reliability: plan your manufacturing processes in greater detail and ensure consistent results with greater process reliability.
Failure avoidance: prevent failures caused by the incorrect selection of tightening torques and avoid costly repairs, readjustments and customer complaints.
Prevent reputational damage: avoid reputational damage, associated costs and lost customers or profits resulting from poor manufacturing processes.
Reliability: guarantee the reliability of your screw connections and you will create the basis for high-quality assembly work and products.

Our services at a glance:
As experts for fasteners in product development and manufacturing processes, we provide you with many years of expertise. In our laboratories, we perform precise torque and clamping force measurements using proven methods and our sophisticated testing equipment. This includes friction coefficient tests between 0.1 Nm to 4,000 Nm or M3 to M36, whereby preload forces of up to 700 kN or 70 t can be achieved.

Do you need friction coefficient tests for special applications outside of the norm? No problem! We also check special applications for screw connections that do not fall under DIN 16047 but meet your specific needs.


Contact our experts and learn more about our Expert Test Services. We are happy to hear from you!
Related topics
Discover in our white papers what our experts write on topics such as:
Corrosion
Friction
Hardness measurement
Hydrogen embrittlement
Material fatigue
Discover other modules that contribute to improving your productivity step by step
Expert Walk
Study your fasteners and tools in use, we determine how to proceed leaner and smarter
Expert Education
Learn about the essentials and secrets of fastenings in our seminars and e-learning courses
Expert Teardown
Identify the best fastening solution and cost saving potential for you