Get in contact with us
Telephone
Austria
Contact form
We are happy to answer your questions.
> Contact
ARIMS – Interactive Supply Chain Platform

ARIMS - The interactive platform provides you with full control of your material flow. Track your orders, manage your inventory interactively and access intelligent analytics. These functions enable improved supply chain predictability and efficiency. ARIMS Mobile grants you anytime and everywhere full transparency of your B- and C-parts.

ARIMS is cloud-based with a user-friendly interface and intuitive features. This digital platform lies at the heart of Bossard's Smart Factory Logistics methodology. ARIMS is ready for B2B ERP integration, enables machine-to-machine communication and brings industry 4.0 to life in your production!
User-Friendly Customer ARIMS Dashboard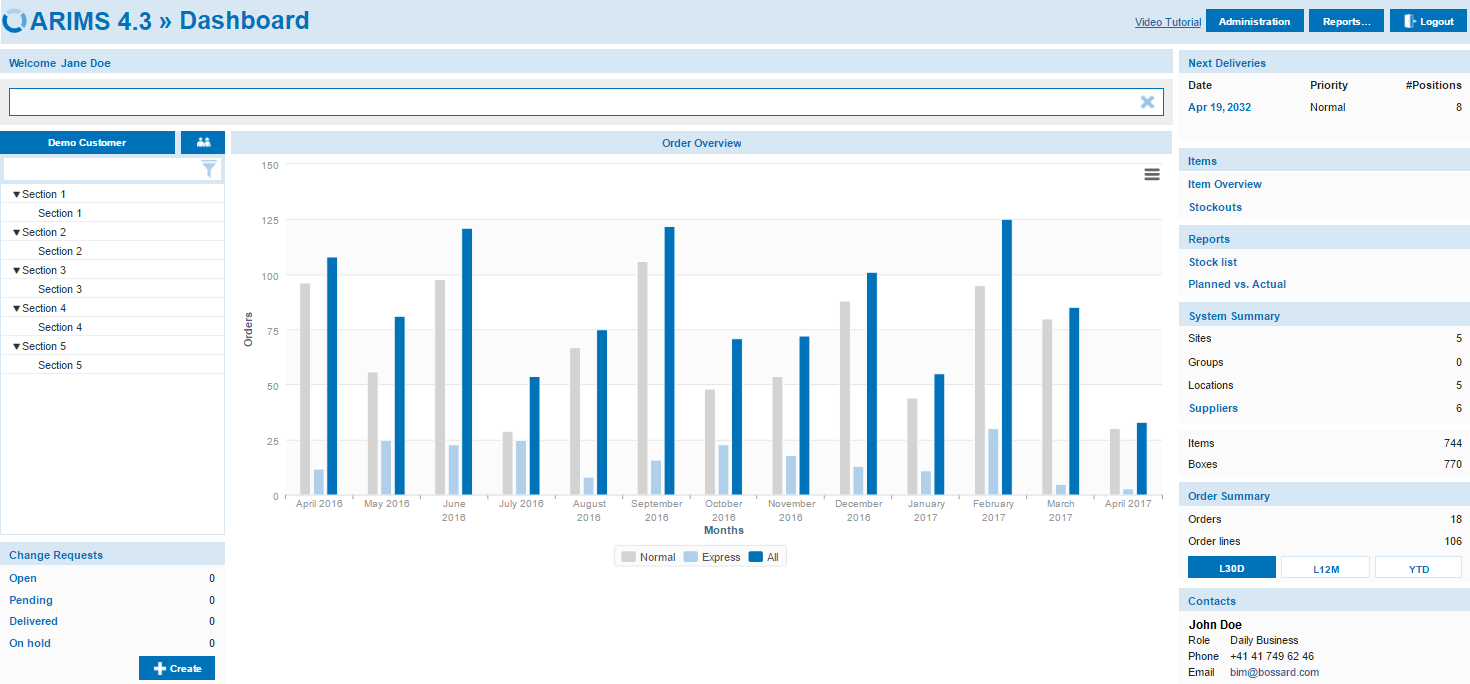 ARIMS - How does it work?
ARIMS provides you with a holistic overview of your B- and C-part management.
The main functions of ARIMS are as follows:

ARIMS Analytics
ARIMS Analytics offers you an overview of your locations, articles, orders and deliveries. Analytics, reports and graphs provide you with a summary of a glance and can easily be exported. Furthermore, analyses, tables, reports and graphs can clearly be visualized and easily be exported. ARIMS Analytics uses big data extensively to deliver real-time data, placing current data from your production at your disposal.
ARIMS Interactive
ARIMS Interactive allows you to directly submit change requests. Furthermore, you can customize your system parameters and view current and past changes.
ARIMS Mobile
With ARIMS Mobile, you have all the functions readily at hand at all times. The app is available for Android and iOS devices and grants you full control, even when you are on the production floor. Find your item, view the necessary information and check your orders in real time.
Features

Integration of all suppliers

Streamline supplier base

Coordination of information flow

Coordination of material flow

ARIMS Analytics – Access to Operation Dashboard

Single point of contact
Benefits
Meaningful analysis of big data
Improved predictability
Full transparency
Increased efficiency
Direct availability of data at the point of use
Download the factsheet

Bossard Solutions - ARIMS

281.8 KB
ARIMS is our step into a successful future of industry 4.0. We would be happy to support and advise you.