Get in contact with us
Telephone
Austria
Contact form
We are happy to answer your questions.
> Contact
Supplier Consolidation Solution – Reliable, seamless, efficient
Bossard's Supplier Consolidation Solution is designed to reduce process costs through effective supplier management leading to a simple administration and an increased control and visibility. By integrating your existing B- and C-parts suppliers, this Smart Factory Logistics solution guarantees fewer transactions and a seamless supply.
To take full advantage, our experts are at your disposal to streamline your supplier base. Whether you are using Smart Factory Logistics as an order trigger system or as a comprehensive supplier management, we are your reliable partner with a proven track record.
How we manage your inventory:
Semi- and fully-automated smart Kanban systems monitor stock levels and trigger replenishment orders.


Our interactive supply chain platform ARIMS sends either a replenishment order directly to the supplier or an order proposal to your ERP.


Suppliers prepare the material according to the replenishment order and label them with the location of the item.


Depending on the pre-defined agreement, ordered items are consolidated into one shipment. The material is delivered either to the dock or directly to the point of use.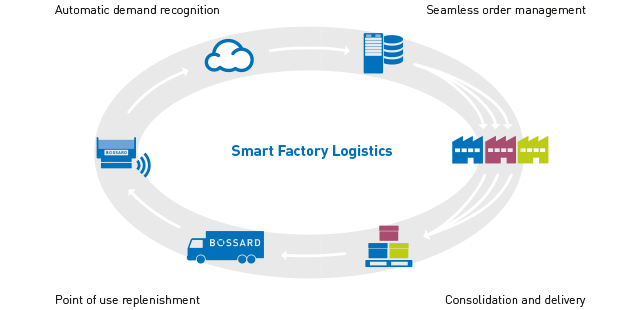 Features

Integration of all suppliers

Streamline supplier base

Coordination of information flow

Coordination of material flow

ARIMS Analytics – Access to Operation Dashboard

Single point of contact
Benefits
Highest supply guarantee
Leaner process, more efficient procurement
Significant reduction of administrative effort
Higher delivery performance and reliability
Reduced inventory
Increased efficiency
Reduction of total cost of ownership
More time and focus on core activities
Streamline your supplier base now, contact us to learn more
Download factsheet

Supplier Consolidation Solution

464.3 KB