Get in contact with us
Telephone
Austria
Contact form
We are happy to answer your questions.
> Contact
15.12.2021
When things have to go quickly and have to be leak-proof: blind rivet nuts with underhead coating or underhead O-ring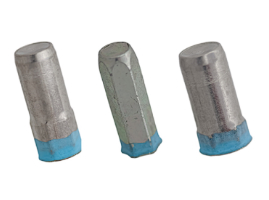 Strong thread for thin materials / simple assembly saves operating costs
The task:
A strong and reliable thread must be made in a thin sheet of metal, plastic or composite material. The component must not be deformed - and it must remain impervious to spray water and dust. Ideally, assembly is simple, one-sided and also possible in positions close to the edge.
The solution:
Blind rivet nuts with underhead coating or underhead O-ring in a closed version from the product portfolio of the connection specialist Bossard Germany / KVT Fastening. Expert contacts for the area of "riveting technology" are Tobias Baumgärtner and Kay Brenning.
The Group Leader and the Business Development Manager recommend the sealing blind rivet nuts above all for applications in critical environments, where either splash water or dust endanger the sensitive inner workings of machines, but whose outer skin is comparatively thin.
From electrical and power engineering to the medical industry: No chance for splash water or dust
Whether outdoor control cabinets, heat pumps, e-charging stations, battery trays for e-vehicles or solar converters on the roof. There are many applications here that require tightness.
But also the most diverse equipment and apparatus in clinics or laboratories - "with a water or gas tightness of up to IP68, the blind rivet nuts in a closed design and underhead coating or underhead O-ring are an excellent solution for permanent mechanical fastening", so Tobias Baumgärtner:

Kay Brenning "The sealing and elastic coating guarantees immediate sealing when the connector is set and impresses with its good thermal resistance." The blind rivet nuts are available in the common sizes M5 to M10 and are available with a round or hexagonal shaft.
Kay Brenning points out two further advantages: "Our blind rivet nuts are very durable because they are corrosion-resistant - and their use saves operating costs because assembly is extremely easy."
Not a must, but with the appropriate hole geometry, the use of hand setting tools with process monitoring can provide additional security. These are also available from Bossard / KVT-Fastening.
Any questions?
Further details can be found on our Tubtara brand page - our product experts will be happy to answer any questions you may have. We advise you quickly, competently and free of charge.

> Contact us now