Get in contact with us
Telephone
Austria
Tel.: +43 732 257700
Contact form
We are happy to answer your questions.
> Contact
11.03.2021
Industry 4.0: Three SmartBin flex for the digitization center Ulm / Alb-Donau / Biberach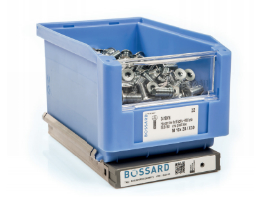 The illustration of the digital and fully automated C-parts management
With three brand new SmartBin Flex, KVT-Fastening Germany / Bossard Germany presents the most modern logistics systems for the fully automatic management of so-called C-parts (screws, nuts, rivets etc.) in the DZ digitization center Ulm / Alb-Donau / Biberach - and shows the visitors of the impressive facility of what "digitization" can mean in industrial manufacturing, among other things:

Industry 4.0 in a particularly clear form.

About the technology: In contrast to the conventional Kanban method (C-parts are kept in two containers; if one is empty, replenishment is ordered), with SmartBin Flex the container is permanently combined with an independent weight sensor, which is e.g. Filling quantity triggers an order via a wireless radio / internet connection.

But not only that: "Every movement is recorded digitally and can trigger defined processes," says Alexander Theologou, Group Leader Smart Factory Logistics at KVT / Bossard Germany.
Reliable and flexible: "Parts manage themselves as if by themselves"
Data in real time, the connection to other systems or the integration via an interface to your own ERP system, maximum reliability and flexibility in the delivery of the work or production area - for Florian Beer, SmartBin Flex is a decisive step in the direction of KVT / Bossard vision "Parts manage themselves as if by themselves".

The managing director also points out that SmartBin Flex can be placed anywhere like a standard container.

This can also be examined in the double room, where there is a larger SmartBin Flex in the 3D printing laboratory and two smaller models in the entrance area. Florian Beer: "Sometimes the surprising use of a technology or its original use helps to understand the principle behind an innovation.

In this case, our systems organize the management of coffee and sugar. "
You can find more details about our smart logistics solutions on our website under Smart Factory Logistics
Do you already know our latest white paper?
In addition to our online calculator to determine the savings potential of your C-parts management costs, you can also find the white paper for free download under the following link.