Get in contact with us
Telephone
Austria
Tel.: +43 732 257700
Contact form
We are happy to answer your questions.
> Contact
06.07.2021
Precise as a Swiss clockwork: testing laboratories for fasteners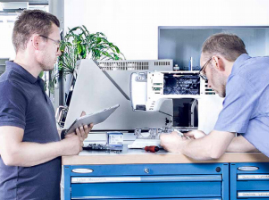 Which clamping forces will work? How high are the outlier forces? These are just two of the many questions that companies that incorporate fasteners into their products have to ask themselves.

Reliable and verifiable answers to these questions are provided by the testing laboratories of Bossard /KVT-Fastening GmbH – as part of the "Expert Test Services", not only is testing carried out, but the client also receives a well-founded evaluation and interpretation of the results.
Measuring and testing systems - state-of-the-art and certified


Is the fastener safe and can it withstand the expected loads?
And does it meet the prescribed standards and legal requirements? Only a few companies have their own test laboratory, while the others have their own "Expert Test Services" testing laboratories worldwide and state-of-the-art measuring and testing facilities with ISO/IEC 17025 certification.

The first laboratory of the internationally active Bossard Group is located in Zug/Switzerland, where most of the fasteners from Germany are also tested.
For Denis Heinrich, Business Development Manager for Clinching at Bossard Deutschland/KVT-Fastening GmbH and proven testing expert, quality assurance comes first: "Our 'Expert Test Services' reduce the risk and help to comply with the quality standards of fasteners. If we e.g., check the tensile strength of screws, the highest precision is elementary."
The following product tests can be carried out in the test laboratories: tensile and compressive strength tests, hardness tests hardness curve measurements, coefficient of friction test/torsion test, torque analysis, layer thickness measurement, spectral analysis, vibrating test, corrosion test, salt spray test, and ultrasonic pre-tensioning force measurement.

Concrete interpretation of the test results


And what do you do with the results? According to Heinrich, the "Expert Test Services" go a decisive step further than usual with comparable services.

While standard testing laboratories usually only provide one "in order" or one "not in order", Bossard/KVT-Fastening, as a specialist in joining technology, provides the test results with concrete interpretations.
This means: the client knows based on error analysis and calculation of the connection whether he has relied on an unsuitable material or an incorrect material combination for the fastener or has used too much lubricant.
Ensure quality, improve products


For Florian Beer, the "Expert Test Services" are "a very harmonious addition to our engineering services", with which Bossard Deutschland/KVT Fastening, as an "Assembly Technology Expert", seeks, finds, and offers intelligent solutions for connection technology challenges.
The managing director continues: "We have the right test for everyone to make sure that the connection also delivers what it promises. In this way, the customer can secure the design and quality of the fasteners he uses and, if necessary, improve his own products."
Do you need more information, or would you like to get advice?


Would you like to learn more about our Expert Test Services?
You will find further information at the following link: https://www.kvt-fastening.at/en/assembly-technology-expert/expert-test-services/
In addition, our experts will be happy to assist you with words and deeds.