Get in contact with us
Telephone
Austria
Contact form
We are happy to answer your questions.
> Contact
CAPACITOR DISCHARGE STUD WELDING
The tip-ignition process enables studs, bushes and pins in sizes ranging from M3-M8 (M10), or from 3-8 mm diameter, to be welded on at lightning speed. It goes without saying that we also carry insulating nails, cupped-head pins and earthing tags in our range of products.
We carry an extensive selection of stud welding machines with the most modern technology, from welding guns to CNC stud welding systems in a variety of sizes and configurations.
TOOLS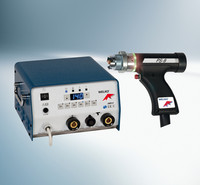 WELKO® Stud welding tools
WELKO® offers a wide selection of assembly setting tools & assembly systems.
Types of tools in the range:
Stud welding machines – various models
CNC stud welding systems – details on application