Get in contact with us
Telephone
Austria
Contact form
We are happy to answer your questions.
> Contact
Reliable and simple logistics systems
If you need to have C-parts at the right time in the right place, Bossard logistics systems are the best solution.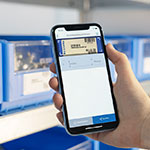 Bossard Code – a simple electronic order system
The new Bossard Code simplifies the ordering of regularly used items. Thanks to the integration into the ARIMS Mobile App, orders can be placed quickly and intuitively. With the smartphone, bins labelled with a barcode or QR code are recorded and the order is transmitted wirelessly.
Factsheet Bossard Code | Special offer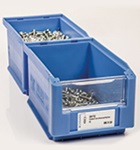 Bossard 2bin – the tradition in modern inventory management
At least two standard bins are available for all parts. They are arranged on the shelf one behind the other. When the first bin is empty, it is moved by the customer to an agreed location. In the meantime, the customer uses the second bin.
Bossard collects the empty bin at regular intervals, fills them up, and returns them.