Get in contact with us
Telephone
Austria
Tel.: +43 732 257700
Contact form
We are happy to answer your questions.
> Contact
19.12.2018
Pre-installed: PEM PreTect protects the internal threads when painting and powder coating work is being carried out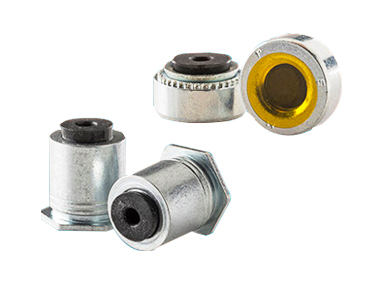 In future, the threads of PEM self-clinching nuts and standoffs will not have to be tediously covered or taped over before being painted or powder-coated, nor cleaned after the operation. The PEM PreTect silicone plugs already installed will reliably protect the internal thread against the ingress of surface treatments as detailed above. Covers are available for sockets closed on the face and versions with full-length threads in the sizes M3 to M6. Where sockets and nuts are open on both sides, a special polyester foil is used, which also protects the reverse side.
There are no restrictions in either manual or automated production: PEM PreTect is designed for temperatures of up to 250 °C. On completion of the installation process, plugs and foils are easy to remove without leaving residues, meaning that integrity of the thread is guaranteed throughout.
>PEM PreTect datasheet