Get in contact with us
Telephone
Austria
Tel.: +43 732 257700
Contact form
We are happy to answer your questions.
> Contact
15.02.2019
Laminate two panels securely without heat or ultrasonics? microPEM® TackSert® can do that!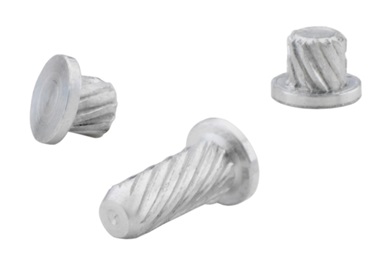 With the micro PEM® TackSert®, KVT-Fastening offers you an innovative solution to laminating two panels, irrespective of the composition of the upper panel!
How it works: the diagonal knurling on the bonding agent is irrevocably meshed during the lamination procedure with the lower panel, which may be made of any of the casting materials normally used, such as magnesium or aluminium. Furthermore, printed circuit boards can be used. The bond is created through simple pressure, without the use of either heat or ultrasonics. This results in a reduction in the processing time, leading to a reduction in costs. Comparing this well-thought-out principle with a screwed or bolted connection, further savings are achieved by dispensing with thread-cutting, drilling holes and using threaded inserts.
Apart from the TackSert, the microPEM® series includes a whole range of further miniature fasteners for use in different materials and fields of application.