Get in contact with us
Telephone
Austria
Contact form
We are happy to answer your questions.
> Contact
SmartBin flex
SmartBin flex: independent – flexible – reliable
Bossard sets new standards in the automatic management of B- and C-parts with the introduction of SmartBin flex.
New development with proven technologies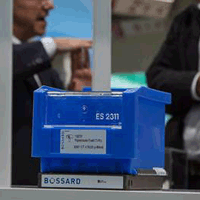 In industrial manufacturing, reliable and flexible workplace delivery is of great importance. The vision "Parts managed as if by themselves" remained for Bossard a mandatory requirement even for workplace delivery.
The individual container is quickly combined with an independent weight sensor and communication established by a wireless connection – and then the parts are managed as if by themselves.
Three major components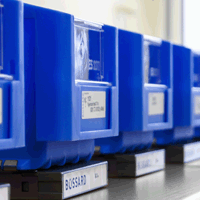 Weight sensors: Weighing technology has been enhanced by one of the existing SmartBin suppliers. The result is a unit that meets all requirements for precision, long-term stability and robustness.
Communication: Radio communication was taken on by a partner who has considerable experience in wireless sensor network technology and already has countless similarly bedded applications in daily use.
Software:The proven "ARIMS" software from Bossard is also used for the latest generation of smart bins.
Independent – flexible – reliable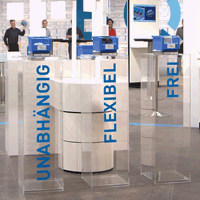 SmartBin flex can be placed anywhere that a standard container can.
Even placement at an angle, so often used at assembly yards, is possible. Employees can take the containers to the working area of the unit to be assembled or move from one working area to another. Likewise new items can be added without any problem. This gives you the ability to set up the layout at the workplace flexibly and to react independently to changes in the production process.
As the vision says: "Parts managed as if by themselves"