Get in contact with us
Telephone
Austria
Tel.: +43 732 257700
Contact form
We are happy to answer your questions.
> Contact
19.04.2022
Best fastening solution for PC Boards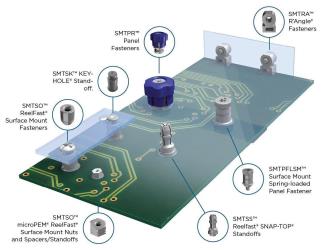 In order to reach optimum performance, every electronic component must be attached reliably and securely, regardless of the complexity of the product. PC board assembly is usually a custom job and has its assembly challenges depending on the function and the location in an assembly.
The complexity of incorporating the PC boards lie in various attachment requirements of component-to-board, board-to-board, or board-to-chassis. Furthermore, some may need to be stacked or spaced, while others may have to be removed or reattached regularly. The potential and expensive damage to PC boards during the assembly process has been a major concern for the electronics industry.
The leading brand of the PC board fastening solution PEM® offers a comprehensive line of fastening solutions for use with PC boards to reduce scrap, handling, and risk of PC board damage.
ReelFast® Surface Mount Fasteners reduce the risk of damage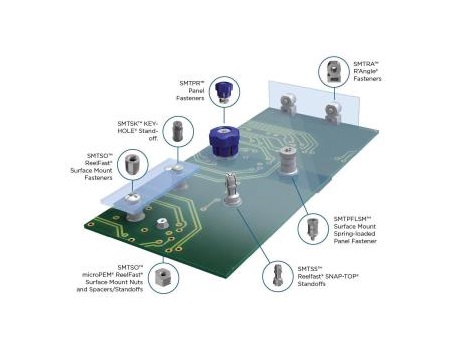 PEM® surface mount technology (SMT) fasteners mount on PC boards and use the same soldering processes as the board's other electronic components. As fasteners join the lineup of other soldered surface-mounted components, the risk of damaged boards and scrap resulting from the false installation is reduced, and the handling of the loose parts and related labor force is saved. All in all, the production is boosted and secondary operations are eliminated.

Advantages of SMT fasteners
Eliminates common productivity and damage issues caused by loose fastening hardware and broaching fasteners
Supplied in tape-and-reel packaging for easy pick-and-place assembly
Excellent pullout and torque-out forces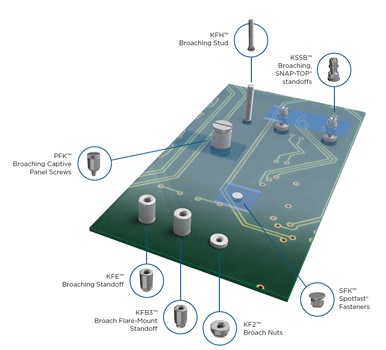 Broaching Fasteners, an alternative to loose hardware

Cutting down on parts and eliminating loose hardware problems is another way to simplify the production process. These broaching fasteners offer practical alternatives to traditional "loose" hardware.
They install permanently on all types of PC boards and reduce excess parts. A broaching fastener is a knurled-shank fastening device that can be pressed into a hole to provide a strong threaded or unthreaded attachment point in non-ductile (non-metal) materials. Specially formed axial grooves around the shank of the fastener "broach" or cut into the material, creating a firm, interference-type fit, resistant to rotation
Easy installation
With surface mounting fastening, the hardware is positioned while the board is being processed. The installation can be completed by the pick-and-place robot used for a board's electronic components and thus reduces the possibility of board cracking and misalignment and even achieving close-to-edge installations.
The SMT fasteners also come in tape-and-reel packaging, which allows easy pick-and-place assembly, speeds up the production by reduced handling, and avoid a mixture of different parts.
Have you found the right fasteners for your PC Boards?

Would you like to consult our expert?
Klemens Freyinger, Product Manager Clinching
Subscribe to KVT Newsletter now and stay updated with our latest product and service highlights!